Values of the staking pool
ADA North Pool aligns with its northern start the IOHK guidance for pool operators.

Principle of transparency
That means we have an high emphasize on being transparent such as when something fails such as the day the web server had a disruption. We would also publically announce if we failed to produce any blocks due to hardware or downtime issues.
The no pool splitting principle
As part of NBX we have a fiancial responsibility to be profitable for the company, however we align with the IOHK guidelines and will not split pools unless we have a high leverage on our current pool. We are much more likely to open a private pool if it came to that than to spam multiple public pools with low leverage and that would be the way to align with the Cardano single pool alliance we are members of and in the past we closed the second pool in 2020. Our main guiding light is that we will not to anything that is harmefull to the overall security of the Cardano network and will strive to help secure the network.
The principle of setting profit margins wisely
As a pool run by head of staking at NBX.com we will strive to be competitive and have allready offered additional rewards on top of the rewards given by the protocol such as the WMT token promo. Given the high uptime and good performance overall we believe this to be a competitive offering in the market that will only get better the more is delegated to the staking pool.
Keeping the pool data updated
As a full time head of staking operation I (Eystein Hansen) now have better time for the Cardano ecosystem and have started the process of adding content such as our video guides and improving our learning center.
Pledge as much as you are able to
We have recently increased our pledge and will be trying to maximize the pledge factor for our delegators benefit.
Apart from the guiding principles from IOHK, I am personally focused on the decentralization aspects of Cardano as well as being part of the Goverance of the ecosystem. In short NBX and ANP is in it to help further the network and believe it is in our best interest to promote and work as much as we can with the Cardano ecosystem.
The pool itself you can read its history about here, and the following is a short summary of the pool:
ADA North Pool (TICKER ANP fees 2,5% of your rewards as a variable fee and 340 ADA per epoch every 5 days) pool id: 0000fc522cea692e3e714b392d90cec75e4b87542c5f9638bf9a363a
Intro about the pool
History of anp video: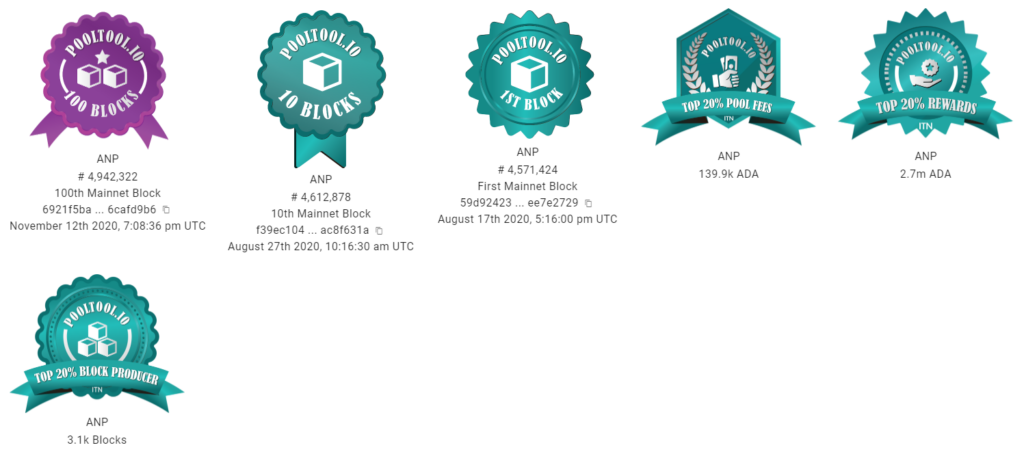 Hardware: (Core servers)
video: https://www.youtube.com/watch?v=nj117hg3HUI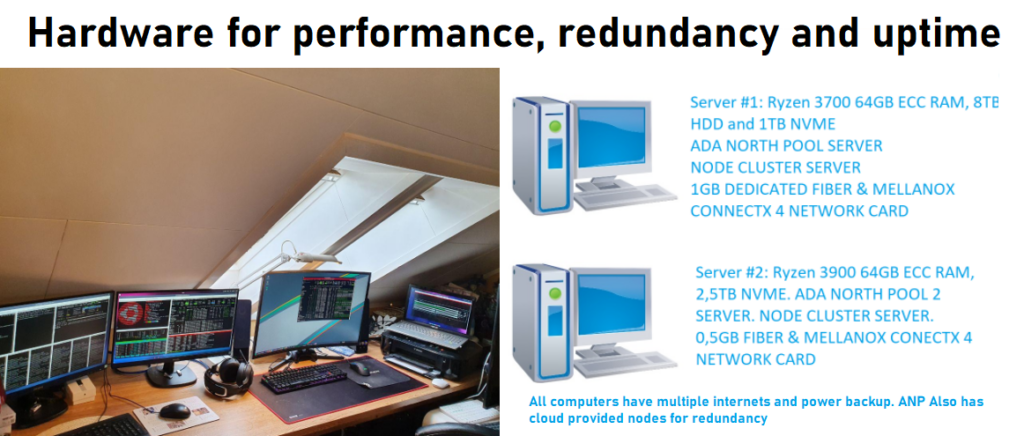 1st core server has a ryzen 3700 8 core processor and 64GB of ECC ram. It has a Mellanox connectx 4 card and a Gigabyte X570 AORUS ULTRA motherboard. Together this gives 3 network interfaces. It also has 1TB of nvme ssd disk (two Kingston A2000 500GB NVMe M.2) and 8TB of disk space in two Seagate Enterprise Exos 4TB SATA disks.
2nd core server has a ryzen 3900 12 core processor and 64GB of ECC ram it also has a Mellanox connectx 4 card but with a single network interface and also from the Gigabyte 570 AORUS ELITE motherboard a 2nd network interface. Disk space is 2,5TB of PNY CS3030 M2 SSD cards (one 500gb for boot and such and one 2tb for main disk)
Network is run by direct fiber core server straight to the Mellanox card. This is a 1GB fiber connection. 2nd internet is through core server 2 with 0.5GB fiber.
Redundancy
Both servers are connected also through a LAN network so the nodes listening on both local and internet will keep updating even if one of the internet connections are down.
Servers have Mellanox network cards that can handle 75 million TCP packets per second and also even if they failed network would still get information updates though the local interface that is on another network card. To route the LAN network we have an industrial grade Mikrotik router.
For power backup we have three BlueWalker PW UPS VI 2200 SHL and with the low power output of our servers due to the watt efficiency the servers and routers could run for around 10 hours without electricity.

I manually made scripts for all parts of pool operation process to have 100% control over code being used. I also firewall all our servers and follow best practice advice for security for production servers as I have found in the literature on the subject, but security is a constant moving target and we also wish to reach out for security experts to audit our services to ensure we are on the right path. We held a security contest during 2020 where there was found some vulnerabilities on the web server but no critical errors on the main Cardano pool server.
Reports:
Progress report 2020-Q22021:
https://adanorthpool.com/wp-content/uploads/2021/08/ANP-Progress-Report-for-2020-to-q2-2021.pdf